"Seasons In A Time Pocket"
aka Covid19: The Year 2020
---
As the world closed down
my mind opened up
to fanciful escapes
in the seasons
as they passed by
The only marking of time
As everything else stood still
---
LizBeth Ogiela-Scheck, Artist
Biography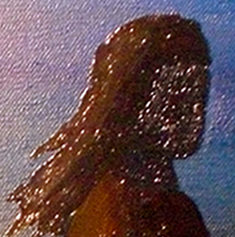 LizBethOgiela-Scheck.com is the online Portfolio of LizBeth's creativity. The Dreams~2~Create Art House, is her studio/gallery based at 903 S. Allin in Bloomington, Illinois. She lives in the central Illinois city with her spouse Joe and their three children. LizBeth is an active volunteer in the arts community. She is currently a co-chair of Art Circle of Bloomington-Normal. Previously, she has served as a Vice President and member of the Board of Directors of Area Arts Round Table in McLean County, Illinois. She has taught art and creativity classes to children and adults. She enjoys mentoring artists of all ages to tap into their creative potential. LizBeth also is successful in merging fine arts with online technology.
LizBeth grew up in Chicago in a large Polish family. She received a Bachelor's of Science in Education from Illinois State University. She majored in Junior High/Middle School Education with specializations in Fine Art, Science, and Social Studies. She was also the Education Coordinator and then Program Director of the Boys and Girls Club of Bloomington-Normal before refocusing on art and family.
LizBeth represents herself in Bloomington, Illinois. She has also exhibited in shows at the Van Leer Arts Academy in Normal, Illinois; the Riversaance Fine Arts Festival in Davenport, Iowa; and the Wheeler Arts Community Indianapolis, Indiana among many others locally. She organizes and participates in the Annual Art Circle Member Show and the Annual "What's So Good About Good Friday?" Art show hosted by 2nd Presbyterian Church in Bloomington. Her work is in private collections in the United States. She continues to work in her studio and participate in the First Friday art events in Bloomington, Illinois.