LizBeth Ogiela-Scheck, Artist
Biography
Dreams2Create is the online home of LizBeth's creativity. The Dreams2Create Art House, is her studio/gallery based at 903 S. Allin in Bloomington, Illinois. She lives in the central Illinois city with her spouse Joe and their three children. LizBeth is an active volunteer in the arts community. She is currently a co-chair of Art Circle of BloomingtonNormal. Previously, she has served as a Vice President and member of the Board of Directors of Area Arts Round Table in McLean County, Illinois. She has taught art and creativity classes to children and adults. She enjoys mentoring artists of all ages to tap into their creative potential. LizBeth also is successful in merging fine arts with online technology.
LizBeth grew up in Chicago in a large Polish family. She received a Bachelor's of Science in Education from Illinois State University. She majored in Junior High/Middle School Education with specializations in Fine Art, Science, and Social Studies. She was also the Education Coordinator and then Program Director of the Boys and Girls Club of Bloomington-Normal before refocusing on art and family.
LizBeth represents herself in Bloomington, Illinois. She has also exhibited in shows at the Van Leer Arts Academy in Normal, Illinois; the Riversaance Fine Arts Festival in Davenport, Iowa; and the Wheeler Arts Community Indianapolis, Indiana among many others locally. She organizes and participates in the Annual Art Circle Member Show and the Annual "What's So Good About Good Friday?" Art show hosted by 2nd Presbyterian Church in Bloomington. Her work is in private collections in the United States. She continues to work in her studio and participate in the First Friday art events in Bloomington, Illinois.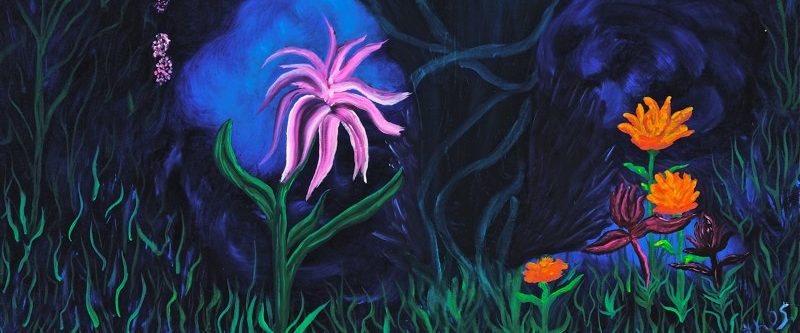 Artist's Statement
I create artwork in oil, ink, and acrylic that reflect my vision of the internal world interacting with the external. "My paintings are meant to be felt with the eyes, seen with the heart, and touched by the soul." These paintings often are meditations on nature and spiritual reflections interpreted through vibrant, high contrasting, colors and organic shapes in order to evoke a reaction and internal dialog.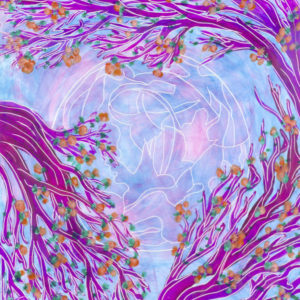 Summer's New Moon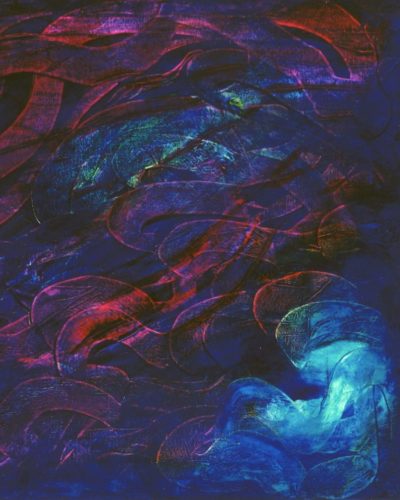 Creating My Work
Many of my works start in my dreams: Imaginings that cannot be explained in words. Sometimes it is hard to remember the dream. But I have found that my hands have not forgotten the dream; the hands carry it forward. These paintings also seem to appear very quickly on the canvas. It is as if, I enter a state where my mind speaks to my hands without going through my consciousness. At times there seems to be a connecting 'theme' or thread through several paintings. I have found that these paintings must be forged from within and not be controlled. Painted until the entire concept of several visions is developed and born.
"The only way art lives is through the experience of the observer. The reality of art begins in the eyes of the beholder, through imagination, invitation and confrontation."

~ Keith Haring (1958-1990)